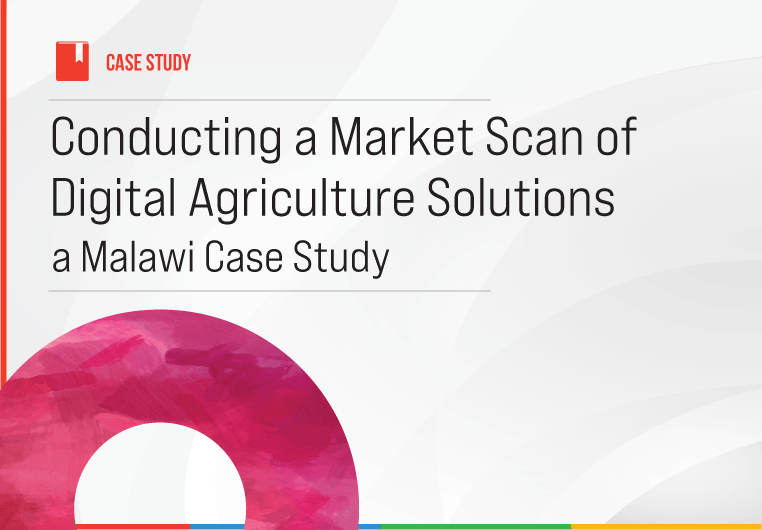 Conducting a Market Scan of Digital Agriculture Solutions: A Malawi Case Study
Areas of focus
Agribusiness and Entrepreneurship, Capacity Building, Extension Services, Livestock and Crop Value Chains, Sustainability
Product Type
Policy, Best Practices and Case Studies
Introduction and Background
The Sustainable Agricultural Production Programme (SAPP) which is embedded in the Department of Agriculture Extension Services (DAES) within the Malawi Ministry of Agriculture, provides smart messaging service (SMS)-based weather alerts and agricultural updates to farmers. Prior to the DAS programme, the DAES used a technical platform developed by Esoko to support 78,000 lead farmers across Malawi. This support was provided in conjunction with other partners and the United Nations Development Programme Modernised Climate Information and Early Warning Systems (UNDP M-CLIMES) project. The objective of the assessment was to identify opportunities to scale the Ulimi ndi Nyengo Platform that provides free agricultural information to a target of 200,0000 farmers.
The assessment was conducted through three main steps:
Step 1: Assessment of the Digital Ecosystem
Step 2: Review of the Existing Agritech Solutions in Malawi
Step 3: Alignment between the Agritech Solutions and the Ecosystem Requirements
For more details on the findings of the study, click on the download button below.
Download